The Dahab Hotel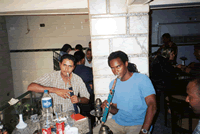 Time to begin our slow down, I finish my book atop Dahab, we sample a few more Egyptian beers and chat with our fellow travelers. I highly recommend Dahab 1 to any one travelling to Cairo. It is a budget as it gets...our room consisted of just two beds, literally, and access to a communal bath, however you cannot beat the atmosphere. The Dahab hotel has interesting people, many who have been in Egypt for extended stays, and quite a few that have been on the road for several months. The vibes is real hippie, peace, love and body odor. Germans, Americans, Danes, Koreans, Japaneese, Nigerians, Mozambique, Jamaicans, Trinidadians...everyone. I will never forget the day that V popped in some Bob Marley and EVERYONE (literally) sang along to EACH AND EVERY word in One Love, including the Arab women that worked there who seldom spoke.
1

Egyptian Cusine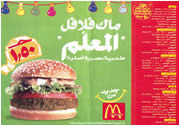 For lunch this evening we decide to ty the Falafel burger from McDonalds the Mahleem, not bad. If they served these at Mickey-Dees back home they might just see me more often. The guide books notes that Egyptian cuisine is not particularly great. While Egyptian food is certainly not as well known as Chineese or other 'ethnic' foods I found myself enjoying the food immensly. The trick is, not to eat in the tourist traps, but to find out from the locals where they eat, you will not only save money but eat very well. One of the best meals of my entire life was on the trip back from Abu Sir (see day 2), when we stopped in a local ghetto and had Falafel with Goat Cheese and Jalepeno peppers.

We meet again with Ghandy and his crew and instead of two beauties we now have four, the situation is a bit complex for Ghandy because two of the women are his girlfriends. I like this guy. Smoke Shisha in our meeting spot Cafe and off to the disco Africana, which we find opens at midnight. Unfortunately it is only 10, however the restaurant is open and so we kill time, I practice my Arabic she practices her English we all laugh and have a good time. The reality of home is now in the air and part of me would really like to stay longer.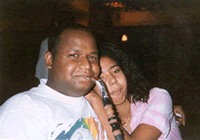 Our friends vow to visit us and we hope they can really make it, home at 1AM last night in Cairo, what a crazy city it is, I love it.









---
| << | >> |
page top